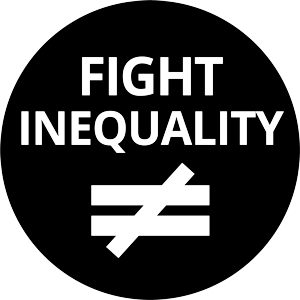 This Reboot Republic is the first of the series in partnership with the Fight Inequality Alliance – A global movement campaigning to end the excessive concentration of power and wealth in the hands of a small elite and achieve a just, equal and sustainable world. We are discussing what the inequality situation is around the world, the solutions, the global protests against inequality and Davos being held from the 23rd to 30th January, and what you can do!
We are joined today by three inspiring young inequality activists from across the world including:
María Ayala who is the research coordinator in Acción Ciudadana Frente a la Pobreza in Mexico and part of the Fight Inequality Alliance Mexico.
Chulumano Mihlali Nkasela a young queer activist, student activist and community leader in South Africa, current spokesperson of the Black People's National Crisis Committee and recently recognised by the Mail & Guardian newspaper Top 200 Young South Africans 2020. She is a member of Fight Inequality Alliance South Africa Steering Committee.
Mwilima Lutangu Daisy is a Zambian youth activist and the National Coordinator for the Fight Inequality Alliance in Zambia.
They outline the harsh reality of inequality in their respective countries, how the COVID 19 pandemic has exacerbated that inequality, issues around housing, healthcare and education and poverty, and set out the solutions, and what citizens can do to challenge and change inequality. The Podcast ends with an inspiring new song from the The Fight Inequality Alliance Zambia called 'It's Not Fair'.
Check out FightInequality.org Fight Inequality Alliance on twitter, FB, Instagram #BetterthanDavos #FightInequality
Join us at: patreon.com/tortoiseshack
<< Back To The Reboot Republic
Podcast: Play in new window | Download (Duration: 1:02:14 — 49.9MB) | Embed
Subscribe: Apple Podcasts | Google Podcasts | Spotify | Email | RSS